Comfort-Truss Hernia Support Belt Single Side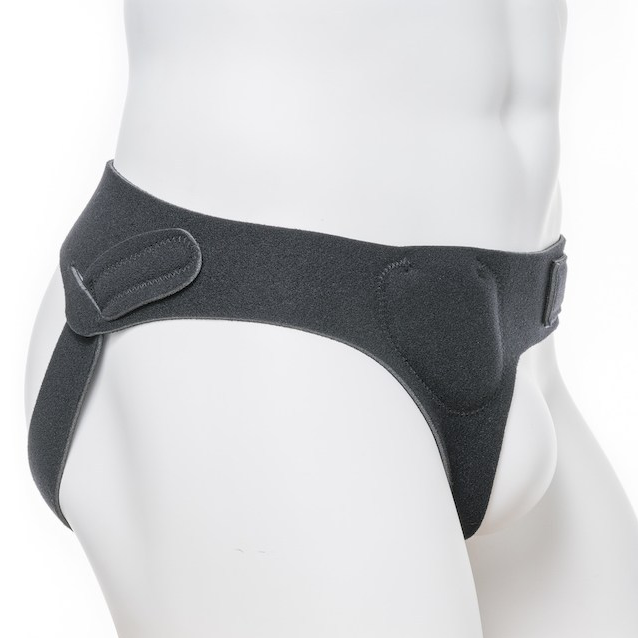 438
$39.99
Comfortable, minimalist hernia support belt for inguinal hernia on either the right or left side.
If you are in between sizes, lean toward the smaller size as the fabric will stretch out a bit over time. 
View Our Return Policy | Orders placed before 11am Eastern Ship the Same Day! (Mon-Fri)
Bulk Discounts on Any Style and Size Combination!
| | | | |
| --- | --- | --- | --- |
| 1 | 2 | 3-5 | 6+ |
| -0% | -10% | -17% | -25% |
DESCRIPTION
ADDITIONAL INFORMATION
INTERCHANGEABLE PADS
The Comfort-Truss Single Side Hernia Support Belt is designed to be a super comfortable, flat pad hernia truss that is a low profile option to the big, bulky and uncomfortable hernia belts on the market. Designed for people with active lifestyles that suffer from a reducible inguinal hernia on either the right or left side. Get your life back! Get back in the action with the Comfort-Truss Single Side Hernia Support Belt.
What makes it so comfortable?
Super Flexible Nylon Lined Breathable Neoprene
Slim 3mm fabric is slim fitting and does not bulge your clothes out
Leg Strap is not so thick to feel bulky, but not thin enough to dig into the skin
Flat pad does not dig in to the hernia site but supplies ample hernia support
Who Uses Comfort-Truss Single  Hernia Support Belt?
The comfort-truss can be worn in or out of the water on the left or right side for a reducible inguinal hernia. Great for men and women to use during any physical activity or for general hernia management.
Take a moment to read our excellent hernia belt reviews! Your search for a hernia belt that you can actually wear all day stops here.