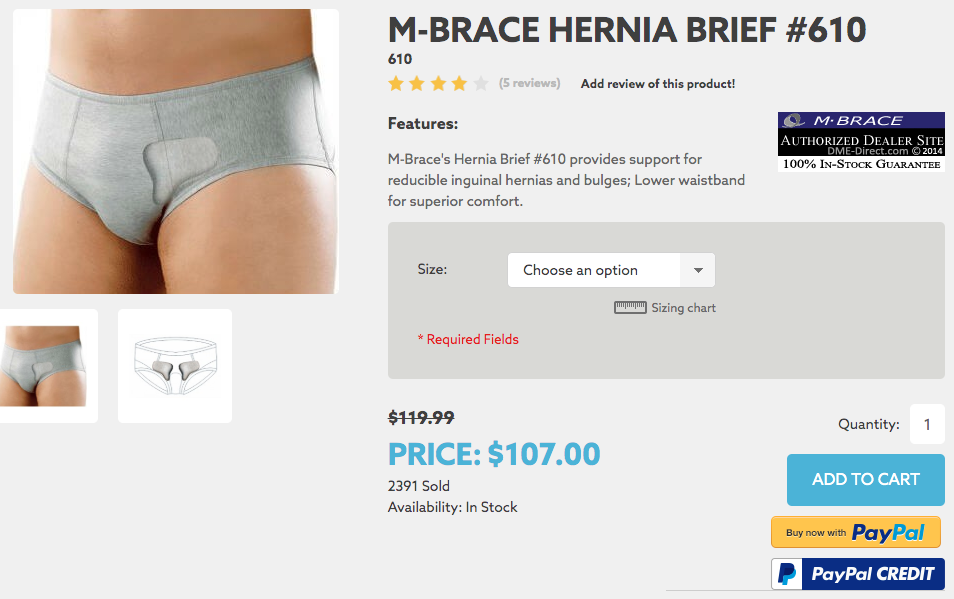 The M-brace Hernia Brief #610 is an inguinal hernia support brief that exerts a compressive support action on the abdomen to contain reducible inguinal hernias.  Instead of pressing against the hernia, these briefs provide support to achieve better results. The hernia brief support structure is shaped to run obliquely compared to the waistband, which is lower in front and higher in the back. To avoid any excessive elastic forces, the materials used provide cushioned return elastic force stabilizing action that helps avoid excessive elastic force. Interior pockets accommodate pre-shaped hernia pads that exert firmer pressure against reducible inguinal hernias and bulges.
M-Brace Hernia Brief Features:
Briefs provide firm support for better results.
Elastic runs oblique to the waistband for a better dynamic result.
Waist band is lower in the front and higher in the back.
Unique material construction made uses an exclusive "cushioned return" elastic force that helps to avoid excessive elastic force.
Pre-shaped pads are self-shaping and covered with 100% cotton fabric.
Super slim design with unique material construction.
Proves a perfect fit and excellent all-day comfort.
Non-returnable for health reasons.
Color: Light Gray.
___
https://www.dme-direct.com/m-brace-hernia-support-brief-610