How a Lucrative Surgery Took Off Online and Disfigured Patients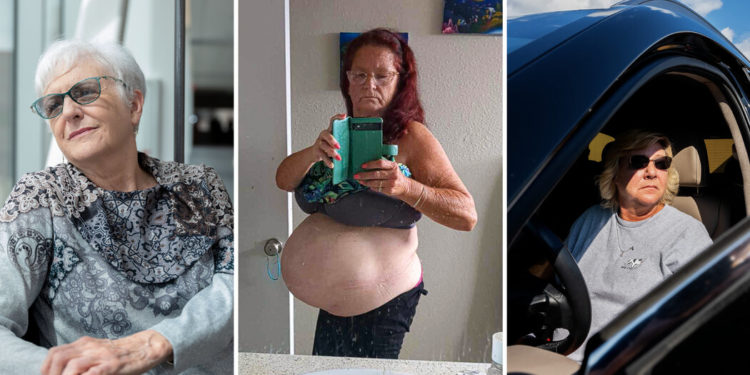 Posted by DNYUZ
The bulge on the side of Peggy Hudson's belly was the size of a cantaloupe. And it was growing.
"I was afraid it would burst," said Ms. Hudson, 74, a retired airport baggage screener in Ocala, Fla.
The painful protrusion was the result of a surgery gone wrong, according to medical records from two doctors she later saw. Using a four-armed robot, a surgeon in 2021 had tried to repair a small hole in the wall of her abdomen, known as a hernia. Rather than closing the hole, the procedure left Ms. Hudson with what is called a "Mickey Mouse hernia," in which intestines spill out on both sides of the torso like the cartoon character's ears.
One of the doctors she saw later, a leading hernia expert at the Cleveland Clinic, doubted that Ms. Hudson had even needed the surgery. The operation, known as a component separation, is recommended only for large or complex hernias that are tough to close. Ms. Hudson's original tear, which was about two inches, could have been patched with stitches and mesh, the surgeon believed.
Component separation is a technically difficult and risky procedure. Yet more and more surgeons have embraced it since 2006, when the approach — which had long been used in plastic surgery — was adapted for hernias. Over the next 15 years, the number of times that doctors billed Medicare for a hernia component separation increased more than tenfold, to around 8,000 per year. And that figure is a fraction of the actual number, researchers said, because most hernia patients are too young to be covered by Medicare.
In skilled hands, component separations can successfully close large hernias and alleviate pain. But many surgeons, including some who taught themselves the operation by watching videos on social media, are endangering patients by trying these operations when they aren't warranted, a New York Times investigation found.
The post How a Lucrative Surgery Took Off Online and Disfigured Patients appeared first on New York Times.
___
https://dnyuz.com/2023/10/30/how-a-lucrative-surgery-took-off-online-and-disfigured-patients/