Note from the Coach:
Some folks out there with inguinal hernias have asked the Coach for a physician referral for surgical repair. Although we have never received feedback about the following surgeon from Las Vegas, Nevada, Dr. Kevin Petersen, the founder of No Insurance Surgery, Inc., appears to be a uniquely qualified specialist in the area of surgical repair for inguinal hernias.
This website will be conducting further due diligence on Dr. Petersen, but his depth and breadth of practice with regard to inguinal hernia surgical repair is as good as we have seen. His entire office especially appears to demonstrate a very high level of integrity throughout the whole process of intake, the hernia operation, and the post-operative treatment and examination.
Any candidate who is determined to have surgery is highly encouraged to call No Insurance Surgery in order to do their own vetting of the good doctor. From our seat, Dr. Kevin Petersen seems to be an excellent surgeon who really walks his talk. For the uninitiated, it is important to understand that finding such high quality surgeons these days is no easy task particularly for hernia repair.
~~~~~~~~~~~~~~~~~~~~~~~~~~~~~~~~~~~~~~~~~~~~~~~~~~~~~~~~~~~~~~~~~~~~~~~~~~~~~~~~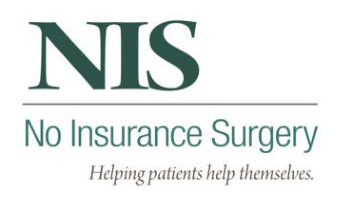 No Insurance Surgery, Inc. 1-866-442-5409 (toll free) also 1-702-256-7616
Dr. Kevin Petersen is the founder of No Insurance Surgery, Inc. and Summerlin Surgical Associates, Inc. both of which are based in Las Vegas Nevada.
Dr. Petersen is a board certified general surgeon (verify) and member of the American Hernia Society (verify). A Magna Cum Laude graduate of the University of Utah, department of Physics, Dr. Petersen earned his medical degree, with high honors, at Tufts University, in Boston. Dr. Petersen received resident surgery training at the U.C.L.A. Medical Center, and completed a fellowship in Organ Transplant at Los Angeles County/USC Hospital. He served as chief resident while completing his surgery training at the Chicago Medical School. He has participated in the training of medical students and surgical residents as an assistant professor of Surgery at the Chicago Medical School, the Chicago School of Osteopathic Medicine, the Nevada School of Medicine and Touro University in Nevada. His career experience is over 10,000 major surgical procedures including 6,000+ non-mesh hernia surgeries and 3,000 cancer operations and 4,000 other operations for treating a variety of life threatening conditions. Dr. Petersen has a particular interest in non-mesh hernia repair and treatment of hernia mesh complications. He recently presented his results of Hernia Mesh Removal for Pain in Milan Italy at the 1st Worlds Conference on Abdominal Wall Hernia Surgery.
No Insurance Surgery is a program developed by Dr. Petersen that has the ability to deliver top quality surgery without the involvement of health insurance companies to patients who are uninsured or who choose not to use their insurance. This is a huge relief for many people who don't have insurance or are struggling to pay previous bills. For many who don't know about No Insurance Surgery, they would look to using places like GoFundMe to help them pay their bills, but now there looks to be another option. No Insurance Surgery is built on the premise that surgery only requires a qualified surgeon, a quality surgical facility and appropriate ancillary medical help. A health insurance company in no way helps a surgeon provide surgery and for that matter helps no physician take care of their patients. A doctor's participation with insurance is not a medical credential. It is in no way a reflection of a physician's medical qualifications. It simple means that the doctor has signed a contract with and insurance company agreeing to accept a discount of his fees in exchange for access to patients which the insurance company controls, i.e "Prefered Network". Many of our finest hospitals and more and more physicians are chosing not to participate in insurance.
Dr. Petersen has been performing surgery for uninsured patients for his entire twenty-eight year career. Recently the number of patients seeking this kind of care has dramatically increased and in response to this Dr. Petersen has formed No Insurance Surgery, Inc.
Health care reform is currently a big topic in the news and Dr. Petersen has been interviewed by print, radio and TV news outlets regarding No Insurance Surgery. See our In the Media web page for more information. Recently Dr. Petersen was recognized by the Review Journal Newspaper as the Most Generous Las Vegan 2012 for medical charity work he is doing.
___
http://www.noinsurancesurgery.com/about-us.htm#gsc.tab=0