List of 20 Root Vegetables with Recipes and Tips
by Kimberly Moore
I could probably be classified as a Root Vegetable junkie.  Many of them are favorites that find their scrumptious way to my plate almost daily in some form.
Root vegetables are easy to prepare and can be enjoyed simply or made elegant.
To clarify what a Root Vegetables is, I compiled the following list (not comprehensive but close) and I added some tips and favorite recipe links.
Cheers to Root Vegetables – let's begin the mash!
1.  Beets – My Love Affair with Beets (need I say more??)
2.  Carrots – Grilling and juicing them are too delightful options.  I am not a carrot cake fan but this recipe for Vietnamese Pickles with Carrot and Daikon Radish from White on Rice Couple is definitely on my list!
3.  Celery Root/Celeriac – I love reading about what Chef Rene Redzepi comes up with next and I have this recipe pinned to the refrigerator:  Pot-Roasted Celery Root with Olives and Buttermilk  – has anyone tried this recipe or one similar?
4.  Daikon – see carrot above AND Daikon is wonderful added to soups with an Asian flavor!
5.  Fennel – Yes, I took a wee liberty by adding Fennel but it is such an essential ingredient in my kitchen, as is Fennel Pollen for the pantry!  You can see all of our fennel recipes here and please check out our friends at Fennel Friday!
6.  Garlic – I would bathe in garlic if it would not offend.  Instead, I eat garlic aioli every chance I get!!
7.  Ginger – Ginger is not tippy-top on my favorites list.  The Healthy Goddess loves her ginger though and is consistently nibbling on crystallized ginger.  I don't mind it in Tom Kha Gai Soup, though and it was pretty yummy with California Fresh Figs and Gingered Mascarpone Fruit Dip.
8.  Horseradish – My primary use for horseradish is as an ingredient for a Bloody Mary; but, when paired with a prime beef – it can be life altering!  Remember that grated horseradish reduces the pungency and makes for a more mellow ingredient!
10.  Jicama – Jicama makes a nice, crunchy addition to salads and pairs extremely well with apples, citrus, and cabbage.
11.  Onion – one of the most essential ingredients to tons of dishes on the planet.  mandatory!  but when you want to love just onions?  Try my Four Onion Gratin!
12.  Parsnip – I did some experimenting with parsnip at Thanksgiving and created this divine Parsnip Hummus.  I also love parsnips in stews!
13.  Potato – Me and my Irish can eat Potatoes every single day (but we don't!).  Some of my absolute fave uses of potatoes – Colcannon with Cabbage or Kale brings me back to my roots and I crave the Sprouted Bean and Roasted Potato African Curry!
14.  Radish – In the past year, radishes have become a more regular visitor in my kitchen.  I was jumpstarted by the gorgeous radishes at the Green Markets and then I had an amazing Radish Salad with Truffle Oil by @_ShellyBelly.  This led to incorporating radishes into my weekly noshing.  And don't get me started on Watermelon Radishes – I recently made a salad with Watermelon Radish, Baby Fennel, & Crab with a Citrus & Chervil Vinaigrette.
15.  Rutabaga/Swede – I always have one of these tough-skinned beauties rolling around my kitchen.  I am a purist – just mash it up and add butter and salt.  Find out why I Root for Rutabagas!
16.  Sweet Potato – the question is – What CAN'T you do with a sweet potato?  This is another purist root vegetable for me.  I love to anoint it with EVOO and Zensational Fennel Pollen blend and roast it (maybe even in fry shapes!).  The Healthy Goddess also made some great Sweet Potato Chips recently!
17.  Turnip – I used to turn up (get it?? food pun!) my nose at turnips.  Now?  My palate has changed and matured and I love them.  Give me a turnip mash any day!  I will confess that I have not really moved beyond the mash tho – who has a good recipe?
18.  Wasabi – Besides loving Wasabi on my sushi, I am interested in experimenting a bit more with this hot-to-handle root!  maybe a good place to start would be the Wasabi and Green Onion Mashed Potatoes from Bon Appetit!
19.  Yam – Yams and Sweet Potatoes are not created equal and are actually not all that similar.  Yams are a tuber from a tropical vine and tend to be sweeter than sweet potatoes.  They can also grow up to seven feet in length (MONSTER YAM!).  Mostly, the recipes that work for sweet potatoes will work for yams and most people interchange them.
20.  Yuca – Yuca fries are a culinary delight when prepared properly and hand-fried.  I end this Root Vegetable list with some pictures from my visit to Three Sisters farm in Homestead, Florida where we got to see Yuca harvested right out of the ground and then we got to eat some AMAZING Yuca Fried by Chef Jonathan …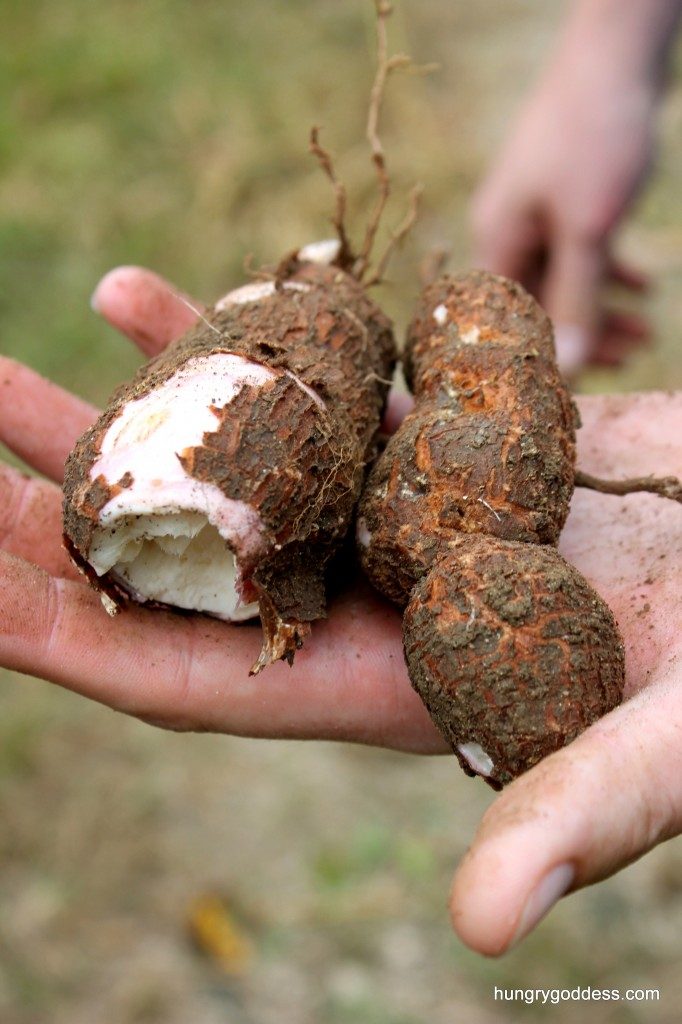 ___
http://thehungrygoddess.com/2013/02/list-20-root-vegetables-with-recipes-tips/